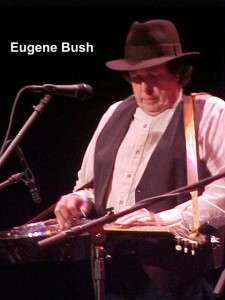 Great live popular music performed for those untrustable ones of us over 30 is alive & well in Mississippi.  It exists in Meridian lately.  A tall well dressed character wearing a Roy Rogers style cowboy hat named Jacky Jack White provides the opportunity in one of the great music venues left anywhere in Mississippi.  The show is called the "Sucarnochee Review" and is rooted in the agricultural region lying North and East of Meridian in the black lands of old Mississippi and Alabama. 
This past Friday night I took the hours drive to Meridian, first stopping out on MS Highway 19 North to grab a quick slice of the best Pizza in Mississippi.  Nick and Al's Ny Style Pizzeria-.  It's the place & offers a chance to taste someone's grandfather's recipes.
From there a quick ride down 8th Street took me to the front door of the old Temple Theatre. 
Parking garage across the street was more expensive than the ticket to the show.  Yeah, it's true.
The Temple is fantastic- original, tired, full of history.  So much detail in the building construction that in its day made the place spectacular. Some of the world's great performers have worked there.   This Friday night, some others entertained a crowd of people, maybe 500, whose ages averaged somewhere around 60. Sit back and enjoy.
Think "Grand ole Opry"- Ten or so performers playing two tunes apiece. Another in the long line of Laurel's great musicians was there performing with a partner in a duo known in Nashville circles as the Fedora Brothers.  Gene Bush can play.  He was the reason I was there in the first place. He played a strong muscled acoustic guitar and an acoustic dobro.  I could have listened to him and his partner all night.  Gene Bush is Dr. Eugene Bush's oldest son.  A Laurel High graduate he maintains ties with home because his two brothers still live here.  CP and Phillip are friends for many years.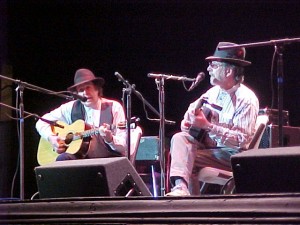 The rest of the show was gravy.  One guy played a favorite Jimmie Rogers tune so well.  His guitar style so clean, never a note was missed. His solo left him nowhere to hide.  He was out there one note at the time singing that  wide range tune without a hitch.  He was good.
The show was over around 9:30, plenty of time to run by Weidman's, Meridian's finest dining spot to climb upstairs to the bar and have the fun of hearing my good buddy, Ronnie Goss, play with a fine pickup rock band.
This guy can play too. 
What a fine night.  April 2 is coming soon, and it's the next date for me and the Sucarnochee Revue.  Want to go?