Ok, so it's not veal.  I cannot get veal cutlets at my grocery stores here in Laurel without a special order, and that doesn't fit the Austerity Program I have in place.  As a consequence, I use round steak or pork loin, or sliced chicken breasts, tenderized and gently pounded. The best part of this dish is the Marinara.  That's where the fun begins, and it's the stuff that draws the family to the table.  The cutlets must be crispy and there must be some bread.  Let's go.
I usually begin early in the morning since getting it ready and allowing it to sit all day or another night helps the tomatoes blend and cure.  My version uses lightly salted and peppered onion, celery, and garlic, all of which are very finely minced by hand.  I cook the trilogy in stages, garlic last, in a bit of olive oil and bacon grease, but never to brown.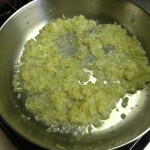 Once translucent, I add some tomato paste and one beef bullion cube and let them cook for a few minutes to darken in color.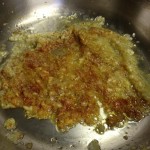 Add some thyme and oregano.  Now comes wine, and I choose white. Reduce that by half, add 1 cup chicken stock, and then add some canned tomatoes. I usually seed those, using pulp and liquid too.  Bring all that to a boil, then reduce and simmer for 1 hour.  Cut it off and let it sit until using it at dinner.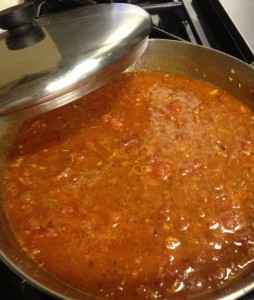 Now, no Marinara is complete without some fresh bread.  This was easy today, as I had some pizza dough in the refrigerator.  Roll some out very thin, lay it on a hot griddle and cook it.  Oh, you can let it sit and rise if you like before cooking. When it browns on one side, turn it over.
Sautéing the cutlets comes next and it's easy.  In a skillet bring a Tablespoon of olive oil to medium high heat and place the cutlets in with plenty of room. Don't touch them and let them brown on one side.  Turn them over and brown that side.  Remove the cutlets, sit them to the side.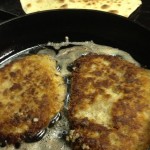 Smear some Marinara around the bottom of an oven proof casserole, and arrange the cutlets over the sauce.  Place some good Mozzarella cheese over the cutlets and pour more sauce over.  Place the casserole in a preheated oven to heat the entire dish up. Buon appetito!