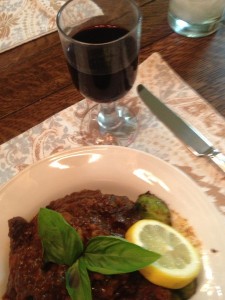 Some things just go with each other. Grits and gravy do.
You got your shrimp and grits. You got your eggs and grits. You got garlic and grits and cheese and grits. There's fried grits and grit soufflé. Everyone of those involved grits and some way to flavor the ground hominy corn.
"Nobody doesn't like" Shrimp and Grits from the Carolina Low Country. Nor should anyone stick up their nose at a Creole treasure Grits and Grillards, except to smell the delicious steam as it comes from the oven. I love it so, especially on a chilly night or morning. The dish is fine for a Christmas morning brunch.
A Grillard is a cutlet of "lean" meat, much like a playing card sliced maybe ¼" thick. It can come from a Beef round or shoulder, but often comes from venison and a pork loin, even. The meat gets sliced into uniform thickness, trimmed of fat, and shaped so that it cooks evenly and can be served with some show. It's then pounded for tenderness. Often I brine the meat in cold salt water for 15 minutes.
To prepare this dish, follow the steps above with ½ pound of lean meat per person to be served.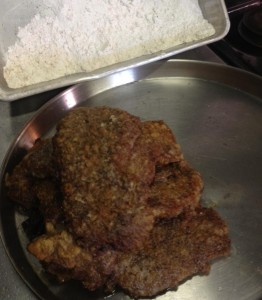 Pat each cutlet dry, place on a paper towel and season both sides with black pepper and some salt. Be careful about over salting, as the braising to follow will reduce the sauce and bring salt to the top.
It's Creole so the Trilogy (onion+garlic+bell pepper) applies. It's French too, so add celery and carrots. With that said, start with a glass of good red wine and a sharp knife.
Heat an oven proof pan that has a top (roasting pan with foil for a cover will do just fine) with 1 T bacon fat. When hot, pan sauté the cutlets on each side without crowding them, assuring some brown bits on the meat and the pan. Do this in shifts so as not to crowd and add more fat if needed, without getting greasy. Once done, sit meat aside with a cover.
Finely chop 1 onion, 1 bell pepper, 4 toes garlic, 2 stalks celery, and 1 large carrot.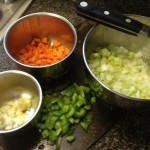 There should be no more than 2 T of fat in the pan and in that, over medium high heat, cook the vegetables, leaving the garlic until all the others are fully wilted and cooked through.
Add to the vegetables 2 T flour and enough butter to make sure the flour can be turned into a paste. Cook this vegetable paste 1 minute more and add 1 T tomato paste. Mix it in the paste and cook until that tomato paste begins to darken.
Now come the herbs. For me it thyme, sage, red pepper flakes, and a rosemary wand. I use fresh herbs from the garden and tie them all in a bouquet to be removed later. Now chop and seed three or four high quality canned tomatoes.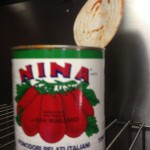 Add these to the paste and cook for 2 to 3 minutes. At this point, you can sit all this aside and finish the rest later.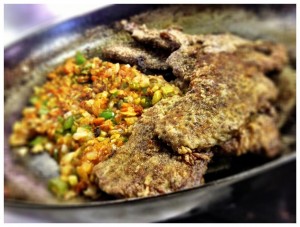 Otherwise, in the hot pan, with the paste add 1 cup good red wine. Bring it all to a boil until most all the liquid has evaporated. Add 1 to 2 cups beef stock and bring to a boil. Reduce to strong simmer and let this all cook for 5 minutes. We are at the point of having acquired our 'braising fluid'. You may use whatever herbs you prefer. I like adding some fresh mushrooms to the fluid.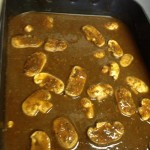 To the braising fluid place the cooked meat around making sure the fluid covers it. Place the cover on the pan, and place the pan in a 350° F pre heated oven for 1.5 hours. Out should come fully cooked meat bubbling in a dark brown gravy. The meat should be fork tender but holding intact as it is served onto the plate.
As the meat is braising, cook some plain grits with a taste of salt in a pot. I prefer them cooked stiff, not runny. You can add cheese and garlic to them, if you like.
Heat some French bread. Place butter on the table to come to room temperature. Fresh cracked black pepper is essential. Knives are only used to spread the gravy and butter onto the girls and fresh French bread.
Chop some parsley. Mold the stiff grits in a cup and plate it for serving. Place some meat from the pan over the grits. Spoon the gravy over the meat. Garnish with some parsley, a taste of good grated cheese, and slice of lemon. Some green vegetable like asparagus goes so well. Here I have used roasted Brussel Sprouts.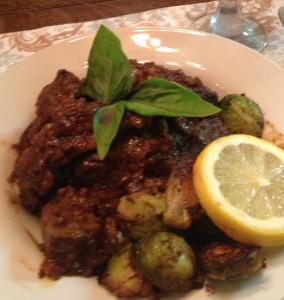 Forest might say, "Momma said, 'good is as good is'."