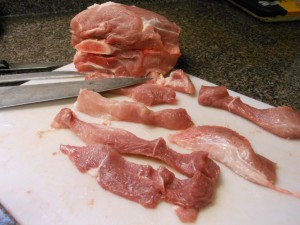 Some time ago, two years to be precise, the Christmas season was the subject of one Blog. It was something about celebration, a Sicilian celebration of making and enjoying sausage on Christmas Eve.  I love the event and the making too.
It started all over again last Wednesday when the grocery sheets came out in a news paper shopper, The Impact. I read them every week, and this one was one for which I had been waiting.  Boston Butts on sale at the Piggly Wiggly was a BINGO.   Laurel has good grocery stores, and I know since I shop them all.  Well, let's be more clear.  The people who work in Laurel's grocery stores are good.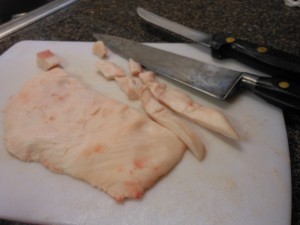 Anyway, I bought about 25 pounds of Butts, bone-in.  They get deboned carefully, cut up into pieces about 1″ square.  Butts are about 80% lean meat, but sausage must have about 60%, with the balance being pork fat.  I got some of that too.   
  Cut all up into pieces, it all looks like this, 21# measured.
   Spices become the next hurdle. Fennel is the primary spice in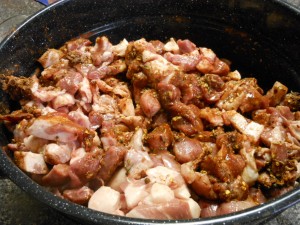 Italian sausage.  It's expensive too.  Anise, garlic, salt, red pepper flakes, red wine, black pepper, and some sugar come together in proportions that I mix up differently every time. 
Getting everything very cold is essential. No only is that a safety necessity, but the colder the meat, the better the grinding goes.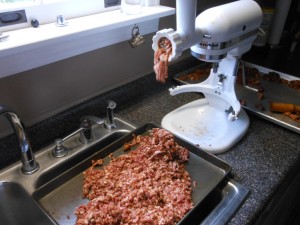 Then come the casings. They are real pork and packing a salt.  Washing them out, well, you get the picture, literally.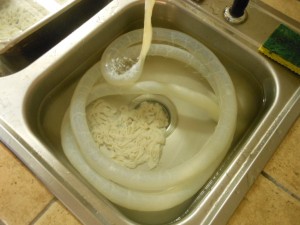 They are bought by the Yard.  I had about 16 yards this year.
 Next comes the fun part. The Stuffer is work but it brings the reward.
 I  love the rounds.
But I love the links better.  Each one twisted by hand, and it's taken some time to know about turning one and not unturning the last.
When it's done.  They look like this.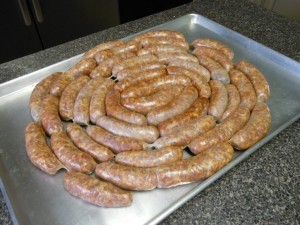 Of course, it's fresh pork. Cook it, cook it completely.  I usually poach the links to get the cooked through. Browning them in a saute pan provides some great color.  From there, it's just pure joy. 
I do love Christmas!