Sunday mornings at the Bullet Proof Cafe always include something good to eat. The ritual remains a big part of the week, either looking back or forward.
In January 1970 I found myself in San Sebastian, Spain. Such a beautiful place I found the next morning. The night before I had rambled around the area of the station seeking a Pension for the night and had been lucky enough to come upon a delightful lady with a clean room. It had become quite late, and being someone's Mom, she recognized a hungry young man. Offering to make me something in pantomime was easy. We both knew the language of food. She prepared my first Fritatta.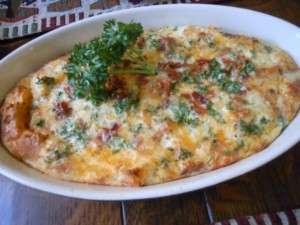 They come in all sizes, shapes, and from many places. They have been copied, rarely improved upon for one hurgry on a Sunday morning. The French took the dish to a different place and called it an omelette. In my admittedly narrow view, they don't have the heft one needs to start a busy active day. They're fine for one about to go back to bed and nap on a snuggle up Sunday, but that's rare for me.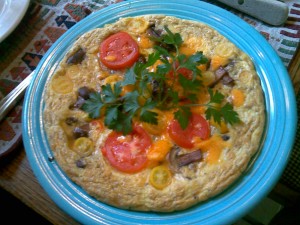 Here is a favorite on a happy plate. The little tomatoes of color make the thing sparkle with taste. Underneath them lies anything from potato slices lining the pan to slices of meat ranging from left over streak, port sausage, bacon, and various cheeses. Add what one has on hand is the rule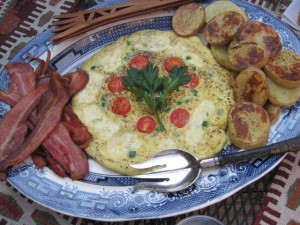 This one is fun, it's a simple one with Farmer's cheese and grape tomatoes. That thick sliced bacon and the potatoes were so good on the side.
I hope you noticed the parsley on each Fritatta. Joy Thompson, my mother-in-law, never served a plate without some colorful parsley picking up the pace of the plate. She would use it everywhere. I hate that those verbs are past tense. At the Bullet Proof Cafe parsley belongs on the Fritatta and on most all other dishes too, for that matter.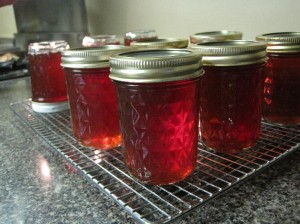 My mother, Virginia, makes her presence known at the table too. She fought the label of being a good cook, but loved being remembered. Here are jars of native Mississippi Wild Plumb jelly that Holly makes from Virginia's old recipe. Nothing is better on some form of bread than this stuff.
Isn't it fun to have so much family all around the table and good food too?