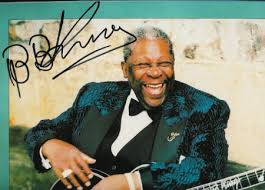 B. B. King, a Mississippi man, a Mississippi Delta man. In those days, to get off another man's plantation tractor, one had to make some footsteps on down the line. He did, and those first foot, or should I say finger, steps led him to Memphis. From there, those same steps led him "all around the world" touching people with music that speaks to us all. Most call him "The King of the Blues". some might debate that, but not today, Sister.
He and his best "good girl", Lucille, the guitar in his arms, made such sweet music and led many more than me to snuggle up to our own guitars.
Here's a 1965 favorite : All Around The World
There weren't many juke joints that I could enter in the Piney woods in 1960, so my first time to hear his kind of music came from the radio. His work stood out, as did many others, all from Mississippi. Some might mention their names, but not to today, Sister. They changed music forever.
It was sad this morning to learn that Mr. King was gone, yes, the Thrill too. The 14th of May was one sad day, when the great B B King passed on away.
My own good girl is named "De Baby". We've been close 50 years, imagine that. That was 1965. Look what else was going on that year. You don't think B B King knew how to spread the news?