Playing now is a promotional TV Commercial paid for by Alabama Tourism telling the listener all about the treasure of Alabama Gulf seafood. It's a good piece; and if one is from Minnesoooooota, it might be the end-all- be-all of reasons to winter or vacation in Alabama. That's not a bad plan, but it's not the only story.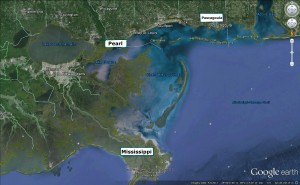 There's this thing called "The River". It's the Mississippi River, and the huge thing pours muddy water stuffed with food into the Gulf of Mexico. Not food for you and me, but food for food for you and me. It's discharge pours into the Gulf and swirls east into the Louisiana wetlands, over into the Mississippi Sound and the Alabama Florida deep water. This is supplemented by the much smaller Pearl, Pascagoula, Tombigbee and Alabama Rivers all the way to Mobile. All that muddy water is good for good eats, and that's the subject of this blog.
Let's start with my favorite, Blue Crab. It's essentially an insect. Not like the Sci-Fi things known as Snow Crap, or King Crab, or Stone Crab, or Dungeness Crab. It's a silly, colorful little cousin with meat so sweet and tender. I think it's the best Crab meat on the planet. It's hard to get to the white meat, unless you enjoy the crunch of shell, so it's expensive labor-wise. Someone must really work to pick out the JUMBO LUMPS. Jumbo Lumps are what we're seeking. In days gone by, the price $8.00/pound for my first purchase some 39 years ago. Here is the same thing, by the way without any shell whatsoever, for $21.00/pound.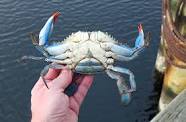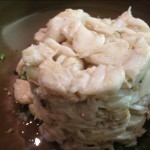 Less is more, really. Here is the recipe…. 1 pound jumbo lump blue crab meat, 1 TBS each of minced green bell pepper & green onion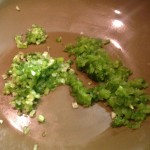 , 1 TBS Hellmann's Real Mayonnaise, 1 squeeze fresh lemon, one strong pinch salt, fresh cracked black pepper. Fold all that slowly & carefully without breaking the lumps into to a salad looking like this. Paprika & garnish finish the picture. Nothing but "Nabisco Premium Saltine" Crackers accompany the dish at the Bullet Proof Café.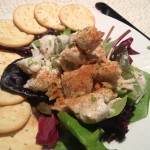 OK, so we're on the Gulf. Shrimp are the absolute best. Why not have a shrimp cocktail? These particular shrimp are known as Royal Reds. They come from deep clear water. Some prefer them. These were placed headless into boiling water for 3 minutes, removed to cool for 1 minute, then washed with cold tap water. They were perfectly done, not over so and tough. Figure out your own sauce. Again, less is more.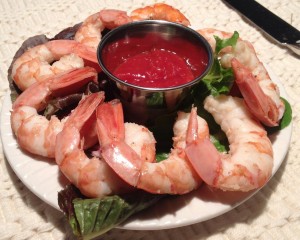 Sea Scallops? Here are mine, a sauté without any fancy stuff. Not overcooked, no sauce, except a taste of butter and lemon. Add asparagus and yellow rice, enjoy.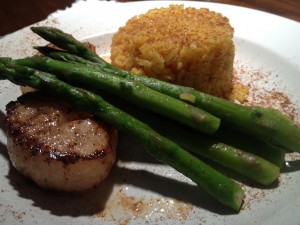 So, there's a weekend in Gulf Shores, AL. Oh, why not begin with a trip to Pensacola to Joe Patti's Seafood Company? More perfectly fresh seafood than one can imagine exist there ready for us to choose. It's a crazy place. You can tell from this picture, that I am in rapture being near the front door.