It was indeed fortunate that an unknown cousin researching Spec Wilson inquired at the Laurel Country Club about my Dad.

He was put in touch with me, and we began corresponding. Later he sent

a

Blog about my Dad, one written by another heretofore unknown gentlemen and golfer.
http://thecompletecommunicator.com/?p=2546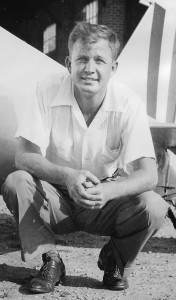 These comments were sincere, came from a gentleman from the old school, a school where people played a game, a really big game. It's the greatest of all games, indeed a life style game, but still a game.
Golf in the old style still excites me. Hit practice balls? What? Have a physical workout to stretch those tied muscles? Forget it!
The game of match play was more about people in stead of score. Spec, my Dad, would screech up in the '47 Willy's Jeep rush to the tee to meet his golf buddies after the winter layoff, Hit it, go find it, hit it again.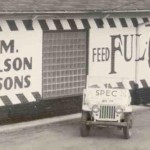 He was indeed a character, as his scrapbook proves. Even though it's becoming more rare (he died suddenly in 1967), rarely do I travel for golf in Mississippi that some elder member of the Club where I am to play does not come up asking if I am kin to Spec. Once established, a new story gets told to a son who never tires of the tales.
One great example, not so many years ago, came from a great old gentlemen, Col. Burt White at the Colonial Country Club while playing at their venerable Invitational. He walked up and asked if I was Spec's kin. As we chatted, he pulls a small box from his pocket inside of which was an 8mm Kodachrome movie of the finals of that Invitational around 1962. Spec lost that match, but later watching the film I remembered so well that OLD STYLE dip in the swing that imparted all kinds of different spins depending of the wrist flick, I could literally smell Spec. That packed Camel cigarette smell is forever tied to the memory of the man.
The Blog mentioned Eddie Merrins,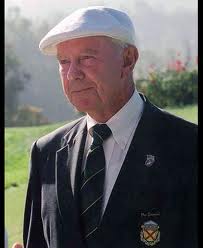 a true star and fantastic gentleman from Northwood Country Club, Meridian, Mississippi. I had the great fortune to have dinner with Mr. Merrins the night before he was inducted into the Mississippi Sports Hall of Fame. Sitting with Bob Travis at Tico's over the perfect beef steak, he told me his side, a very humble one, of his crowd roaring pitch into the hole on the 18th green to determine his win in the finals of the State Amateur that year. Over the years, I have been told over and over by "hundreds of thousands" of people who swore they were in the crowd that day to watch Spec go down to Merrin's magic.
The people like Spec, Merrins, Johnny Pott, Bob Travis, Hunter George Weddington really glitter up the story of golf in Mississippi.
"Glitter up", it's true.  These people glitter up all around. They were Stars, and Stars never fade.